How to make your glo data browse faster.
Tue Apr 17, 2018 4:09 pm by Snows
To enable all glo users browse faster, use this method to enhance your browsing speed.
Steps :
*Click your glo access point settings .
*Click default Glo flat.
*Then edit your bearer settings the default is unspecified, just unclick it.
*then tick the following shown On image below.
That's all and watch the speed of light on your 3g browsing
Note: 
o
nly tick LTE if your phone is 4g …
[
Full reading
]
Comments: 0
How To Get Free 20,000 Naira Airtime on Any Network With Opera Mini News App
Mon Apr 02, 2018 1:18 pm by issac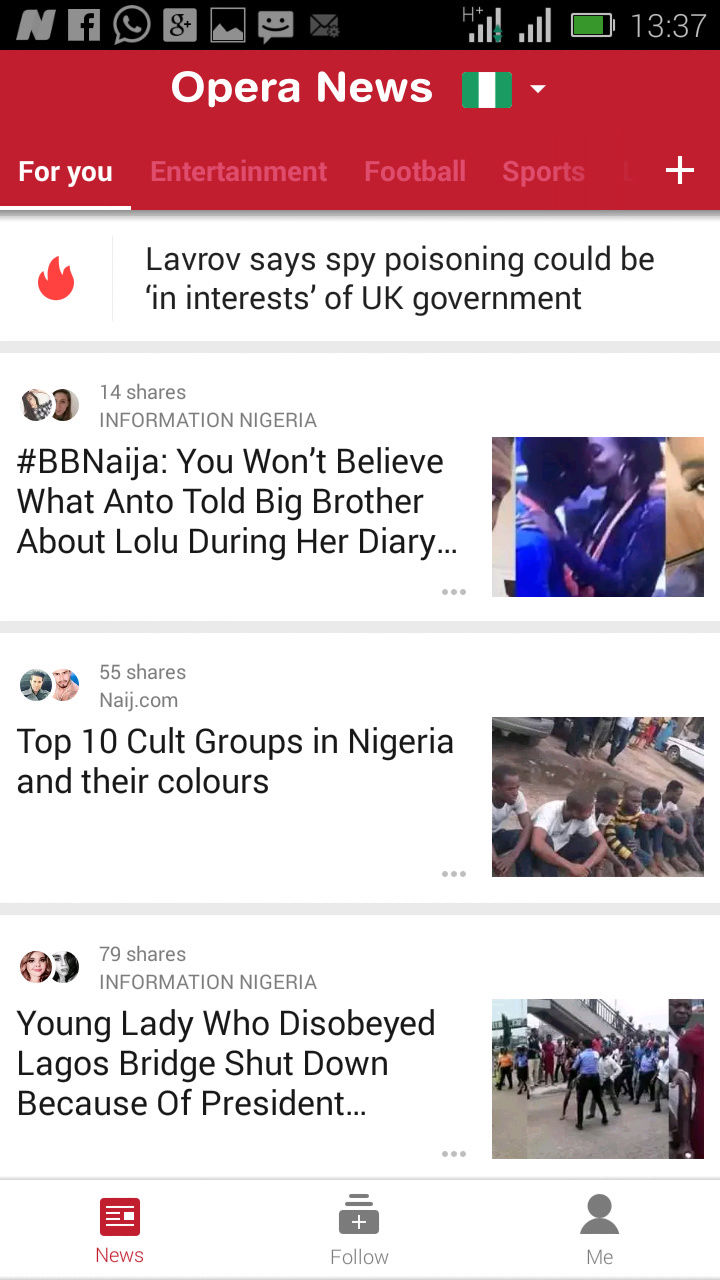 Hey Friends 
How To Get Free 20,000 Naira Airtime on Any Network
free airtime app that you can't afford to miss out this time around. So this app is nothing more than opera mini news app.

So the ideology of getting free airtime is still the same with Opera News app.

So let's take a look at what this app is actually meant for. 


Opera …
[
Full reading
]
Comments: 1
Mtn Nigeria Customer Care Contact Details
Sat Apr 07, 2018 1:44 am by DaddyBoy
​
MTN is a South African multinational telecommunication network. It has so many affiliates in the world including Nigeria.
In this post, I'll tell you how to contact MTN customer care in Nigeria, in case you are finding it difficult to contact them. 
HOW TO CONTACT MTN NIGERIA CUSTOMER CARE 
​
To contact MTN customer care, you must first have …
[
Full reading
]
Comments: 0
How To Share Data On Glo Network With Few Easy Steps
Thu Mar 29, 2018 11:15 pm by Emmi
As a Glo network subscriber, you are entitled to every opportunity on the Glo network. Glo offers this feature of sharing data with another Glo subscriber. You can share data to another Glo network without facing any difficulty. Instead of buying different plans you can alternatively share with one another and they'll all get …
[
Full reading
]
Comments: 0
How To Check Your Airtime And Data Balance On Mtn Network Nigeria
Wed Mar 28, 2018 2:17 am by DaddyBoy
Hello readers! Are you finding it difficult to check your MTN balance both on data and airtime credit basis? Then consider it not a problem again as I'll highlight you on the various ways you can check your balances on the MTN network.
This post was strictly written for MTN subcribers. This post covers all the MTN tariff plans as regards to checking your data and airtime credit balances.
[
Full reading
]
Comments: 1
Snows

Ultimate goal ✭✭✭✭✭✭

Posts

:

245




Points

:

1210




Reputation

:

15



How To Undo Sent Messages In WhatsApp [WhatsApp Delete for Everyone]

 WhatsApp has finally come with a feature to undo sent messages in a particular chat as well as a group . This was the much-awaited feature of WhatsApp and now this wait is over. Once a message is sent, you will have the power to recall, unsend, or delete that message in WhatsApp. You will have 7 minutes to delete the sent message , which I guess is sufficient time. You don't have to regret or feel embarrassed after sending a message accidentally.

Whether you have sent a photo, video, attachment, or text message in WhatsApp, you can undo it with just two easy steps. You can delete sent message even after the receiver has seen or read that message within 7 minutes, but that won't be very helpful I guess.

Earlier, we were able to delete a particular WhatsApp message or media but only for ourselves. The receiver was able to see it. Now you can delete WhatsApp message without letting the receiver know what message or media was sent by you. Once a WhatsApp message is deleted, that particular WhatsApp contact will get ' This message was deleted ' message. But, he/she won't be able to see what was the original message.

The image visible above shows that Delete for Everyone option worked and I was able to successfully delete a message for a WhatsApp chat. You can also select multiple messages and delete them at once .

WhatsApp has started rolling out this feature to all the users. This feature is available for Android as well as iOS apps of WhatsApp. If you didn't receive this feature yet, you are gonna get it very soon. Just make sure if there is some update for your WhatsApp. If yes, update it.
Now let's see how we can use this feature.

Steps To Undo Sent Messages In WhatsApp Using Delete for Everyone Feature:

1) . Open a WhatsApp contact or group and send a message. It can be a text message, video, photo, or attachment.

2) . Select the sent message and then tap on ' Delete ' icon.

3) . A pop-up will visible with three options: DELETE FOR ME , CANCEL , and DELETE FOR EVERYONE . To delete the sent message from receiver and sender end, you have to use the third option.

As soon as you select DELETE FOR EVERYONE option, your WhatsApp message is deleted forever. In place of that message, you will see a post that you deleted this message. The receiver will be able to check that some message was sent by you, but instead of the original message, he/she will see a post that 'This message was deleted
Create an account or log in to leave a reply
You need to be a member in order to leave a reply.
Log in
Already have an account? No problem, log in here.
Log in
---
Permissions in this forum:
You
cannot
reply to topics in this forum