How to make your glo data browse faster.
Tue Apr 17, 2018 4:09 pm by Snows
To enable all glo users browse faster, use this method to enhance your browsing speed.
Steps :
*Click your glo access point settings .
*Click default Glo flat.
*Then edit your bearer settings the default is unspecified, just unclick it.
*then tick the following shown On image below.
That's all and watch the speed of light on your 3g browsing
Note: 
o
nly tick LTE if your phone is 4g …
[
Full reading
]
Comments: 0
How To Get Free 20,000 Naira Airtime on Any Network With Opera Mini News App
Mon Apr 02, 2018 1:18 pm by issac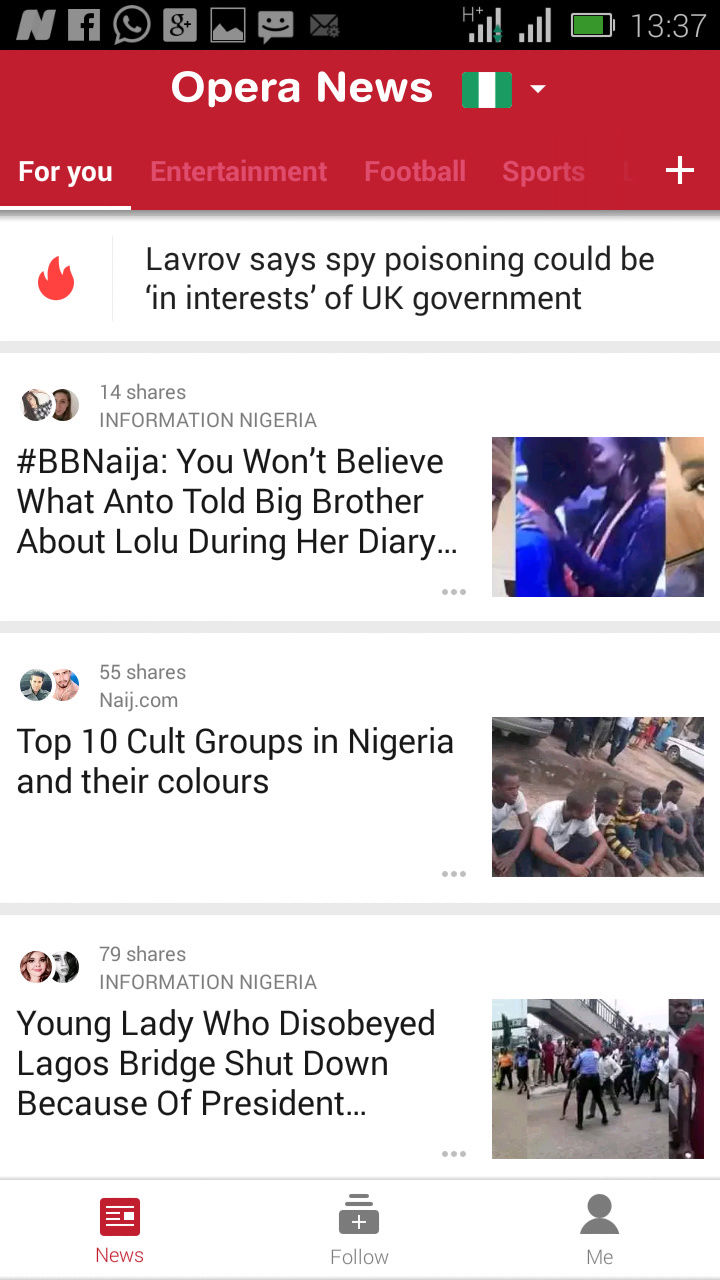 Hey Friends 
How To Get Free 20,000 Naira Airtime on Any Network
free airtime app that you can't afford to miss out this time around. So this app is nothing more than opera mini news app.

So the ideology of getting free airtime is still the same with Opera News app.

So let's take a look at what this app is actually meant for. 


Opera …
[
Full reading
]
Comments: 1
Mtn Nigeria Customer Care Contact Details
Sat Apr 07, 2018 1:44 am by DaddyBoy
​
MTN is a South African multinational telecommunication network. It has so many affiliates in the world including Nigeria.
In this post, I'll tell you how to contact MTN customer care in Nigeria, in case you are finding it difficult to contact them. 
HOW TO CONTACT MTN NIGERIA CUSTOMER CARE 
​
To contact MTN customer care, you must first have …
[
Full reading
]
Comments: 0
How To Share Data On Glo Network With Few Easy Steps
Thu Mar 29, 2018 11:15 pm by Emmi
As a Glo network subscriber, you are entitled to every opportunity on the Glo network. Glo offers this feature of sharing data with another Glo subscriber. You can share data to another Glo network without facing any difficulty. Instead of buying different plans you can alternatively share with one another and they'll all get …
[
Full reading
]
Comments: 0
How To Check Your Airtime And Data Balance On Mtn Network Nigeria
Wed Mar 28, 2018 2:17 am by DaddyBoy
Hello readers! Are you finding it difficult to check your MTN balance both on data and airtime credit basis? Then consider it not a problem again as I'll highlight you on the various ways you can check your balances on the MTN network.
This post was strictly written for MTN subcribers. This post covers all the MTN tariff plans as regards to checking your data and airtime credit balances.
[
Full reading
]
Comments: 1
Hello, Here is the 2016 WAEC Biology Specimen – the complete list plus other vital information that you may find useful. Check Out Specimens for all other subjects here.
Materials and special notice is also available to Biology teachers concerning the WASSCE Biology Specimen of 2016.
Carefully go through the page to see…
Group 1
Specimen A: A slice of fresh bread.
Specimen B: A slice of bread with mould.
Specimen C: Longitudinal section of hard boiled egg with the shell intact.
Specimen D: Freshly laid egg.
Specimen E: Transverse section of orange/any citrus fruit.
Specimen F: Freshly procured green leafy vegetables(mywaec.ng)
Specimen G: Fresh stomach of a Goat/Sheep/Cow(small piece)
Specimen H: Fresh Liver of a Goat/Sheep/Cow(small piece)
Specimen J: Fresh Small Intestine of a Goat/Sheep/Cow(small piece).
Specimen K: Fresh Lung of a Goat/Sheep/Cow(small piece).
Specimen L: Fresh Gall bladder of a Goat/Sheep/Cow(with the fluid intact)
Specimen M: Fresh Kidney of a Goat/Sheep/Cow(Longitudinal Section; bilaterally symmetrical)
Group II
Specimen N: Some Rheodiscolor leaves(about 3cm² in diameter in a petri dish containing water)
Specimen P: Palm fruit(with the outer covering intact)
Specimen Q: Tridax plant(put in a petri dish)
Specimen R: Grasshopper
Group III
Specimen S: Toad(wet preserved)
Specimen T: Freshly uprooted grass species
Specimen U: Brightly coloured lizard(wet preserved)
Specimen V: A branch of Cactus plant
Specimen W: Locust (wet preserved)
Note:
(i) Specimen N, P, Q and R are peculiar to candidates in Ghana only and should not be provided for candidates in Nigeria, Sierra Leone and The Gambia.
(ii) specimens S, T, U, V and W are peculiar to candidates in Nigeria, Sierra Leone, and the Gambia only and should not be provided for candidates in Ghana.
(iii) All specimens can be provided as group specimens for fifteen(15) candidates.
(iv) All specimens in each group must carry individual labels(e.g A, B, C, D, E, F, G, H, J, K, L, M in Group I)
[size=31]Biology Materials[/size]
[list="box-sizing: inherit; margin-right: 0px; margin-bottom: 26px; margin-left: 40px; padding-right: 0px; padding-left: 0px; color: rgb(118, 118, 115); font-family: Merriweather, serif; font-size: 16px; background-color: rgb(255, 255, 255);"]
[*]glass jar cover or petri dish;
[*]scalpel or razor blade;
[*]a beaker;
[*]a pair of forceps;
[*]plain white sheet of paper ;
[*]magnifying lens/hand lens ;
[*]test tubes;
[*]iodine solution;
[*]white tiles
[/list]
2017 wace specimen for Agricultural science
Create an account or log in to leave a reply
You need to be a member in order to leave a reply.
Log in
Already have an account? No problem, log in here.
Log in
---
Permissions in this forum:
You
cannot
reply to topics in this forum