How to make your glo data browse faster.
Tue Apr 17, 2018 4:09 pm by Snows
To enable all glo users browse faster, use this method to enhance your browsing speed.
Steps :
*Click your glo access point settings .
*Click default Glo flat.
*Then edit your bearer settings the default is unspecified, just unclick it.
*then tick the following shown On image below.
That's all and watch the speed of light on your 3g browsing
Note: 
o
nly tick LTE if your phone is 4g …
[
Full reading
]
Comments: 0
How To Get Free 20,000 Naira Airtime on Any Network With Opera Mini News App
Mon Apr 02, 2018 1:18 pm by issac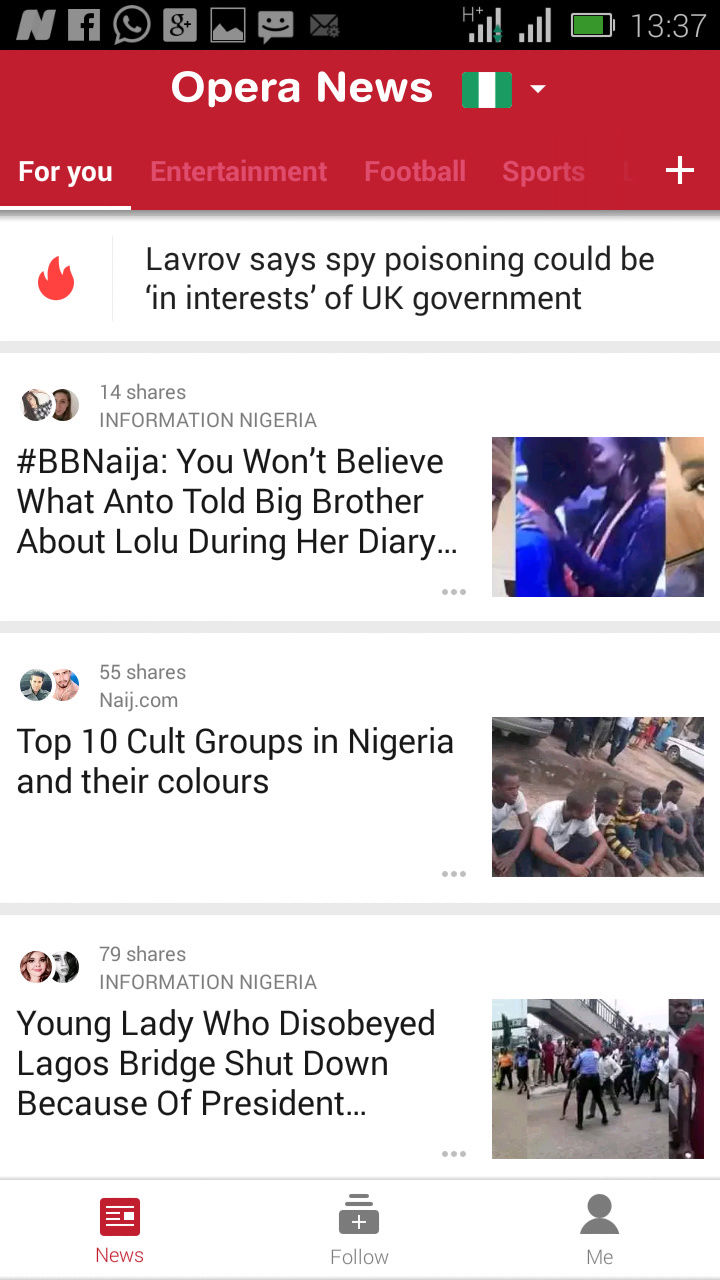 Hey Friends 
How To Get Free 20,000 Naira Airtime on Any Network
free airtime app that you can't afford to miss out this time around. So this app is nothing more than opera mini news app.

So the ideology of getting free airtime is still the same with Opera News app.

So let's take a look at what this app is actually meant for. 


Opera …
[
Full reading
]
Comments: 1
Mtn Nigeria Customer Care Contact Details
Sat Apr 07, 2018 1:44 am by DaddyBoy
​
MTN is a South African multinational telecommunication network. It has so many affiliates in the world including Nigeria.
In this post, I'll tell you how to contact MTN customer care in Nigeria, in case you are finding it difficult to contact them. 
HOW TO CONTACT MTN NIGERIA CUSTOMER CARE 
​
To contact MTN customer care, you must first have …
[
Full reading
]
Comments: 0
How To Share Data On Glo Network With Few Easy Steps
Thu Mar 29, 2018 11:15 pm by Emmi
As a Glo network subscriber, you are entitled to every opportunity on the Glo network. Glo offers this feature of sharing data with another Glo subscriber. You can share data to another Glo network without facing any difficulty. Instead of buying different plans you can alternatively share with one another and they'll all get …
[
Full reading
]
Comments: 0
How To Check Your Airtime And Data Balance On Mtn Network Nigeria
Wed Mar 28, 2018 2:17 am by DaddyBoy
Hello readers! Are you finding it difficult to check your MTN balance both on data and airtime credit basis? Then consider it not a problem again as I'll highlight you on the various ways you can check your balances on the MTN network.
This post was strictly written for MTN subcribers. This post covers all the MTN tariff plans as regards to checking your data and airtime credit balances.
[
Full reading
]
Comments: 1
How to unsubscribe from all unwanted email subscriptions has never been an easy task. You would have to go through all the emails in your inbox to unsubscribe from their email distribution lists and services which are clogging your email inbox with unwanted emails and promotions.
To unsubscribe from all the emails can be a herculean task to carry out. They seem to increase daily with the bulk of these messages languishing in our inboxes unread and obscuring the really important one that require our action.
In this guide, you will learn how to automatically and with ease, unsubscribe from all unwanted email subscriptions using "Unroll.me".
Unroll.me is a third party websites that unsubscribe your email account from your numerous unwanted email distribution lists. This tool has the following features:
1. Getting rid of the junk.
2. Identify your subscription emails and neatly list them for you.
Do you remember signing up for that newsletter? We didn't think so.
Chances are, you're drowning in unwanted email subscriptions.
We give you the option to unsubscribe from junk emails right off the bat. One click and they're gone. Done.
Organizing the subscriptions, you like
Now that your inbox is junk free, easily combine your favourite subscriptions into a beautiful daily digest email called the Rollup.
You choose what gets rolled up and when you receive your Rollup. Like to browse email with your morning coffee? You can get all your newsletters and social notifications at 7 a.m. each day. It's up to you.
GUIDE TO UNSUBSCRIBE FROM EMAIL SUBSCRIPTIONS WITH UNROLL.ME
STEP 1.
Visit www.unroll.me on your search engine and sign up as a new user with your email address that you want to unsubscribe emails from. e-mail accounts which can be used on unroll.me are yahoo, Gmail, outlook, AOL.
Sign up and read though the terms and conditions and click on agree. you wold be redirected to your email account and prompted to log in and give unroll.me permissions to unsubscribe your email account from unwanted email distribution lists.
STEP 2
After giving the necessary permissions to unroll.me, you would be redirected to unroll.me website and welcomed with a pop up message and shown the email subscriptions your email account is subscribed to, the email provider account will also be displayed.
STEP 3
On the page showing the email subscriptions your email is subscribed to, options are shown to keep in box, unsubscribe or add to roll up. The keep inbox option will keep email subscriptions you still want to continue receiving emails from in your inbox, unsubscribe will unsubscribe your email account from the distribution list from the email subscriber, while add to roll up serves as a temporary folder where email service providers are placed on temporary hold for review later.
To unsubscribe from any email list, click on unsubscribe option in front of the email and will be automatically unsubscribed from that email distribution list and further emails from that account.
STEP 4
To recover email services unsubscribed by mistake, or want to continue receiving emails from that account, click on unsubscribe menu at the top of the unroll.me page, and will be prompted with the email services unsubscribed form and can be restored by clicking on keep in inbox.
STEP 5
When you are done unsubscribing from the unwanted email lists, click on finish and a page will pop up showing the number of emails unsubscribed from, number of emails kept in inbox. Why not give it a try and unsubscribe from unnecessary email lists?
What tool do you use to unsubscribe to unwanted email lists? Are there any other service you use to keep your e-mail free from subscription junks? Let us know in the comment box below.
pati

Master User✭✭✭✭✭

Posts

:

74




Points

:

546




Reputation

:

4



Create an account or log in to leave a reply
You need to be a member in order to leave a reply.
Log in
Already have an account? No problem, log in here.
Log in
---
Permissions in this forum:
You
cannot
reply to topics in this forum